Leading the way to better health and independence at home.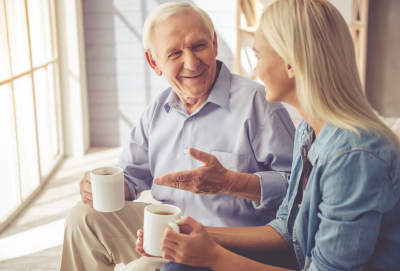 A Special Touch Home Health Care LLC offers a range of home healthcare services designed to help anyone, regardless of their age and health, to keep enjoying the comfort, security, and freedom of home.
From day-to-day personal care and household assistance to emotional support and mental health care, we can help. We also offer respite care for dedicated family caregivers in need of a break and emergency care if you or a loved one suddenly becomes sick.
Our Services
We put you and your loved ones at the heart of our service. All of our services are personalized to your needs, preferences, and circumstances. We work with you, your family and your healthcare team to ensure that you get the best care possible at home.
Our services include:
Veteran Services

We honor veterans. We highly respect those who have served our country, and it is our privilege to serve them in return. We offer a range of care services that enable them to continue living at home. We provide personal care, companionship, housekeeping assistance, and assistance with other day-to-day tasks.

We also offer mental health care services to help treat and manage issues such as post-traumatic stress disorder (PTSD), anxiety, depression, and more.

Adult Care

We offer a range of care services to adults and seniors who require extra assistance at home, be it due to a disability, illness, or advanced age. Whether you simply need companionship for a few hours each day or if you need assistance with activities of daily living (bathing, grooming, etc.), you can count on us for help.

Pediatric Care

Nothing is more important than the health and overall well-being of your child. However, it can be difficult to balance your other day-to-day responsibilities with your child's care. This is where we can help. If you need assistance, you can rely on our healthcare team to provide the care and support that your child needs. Whether you simply need someone to watch over your child as you head to work or if you need the private duty nursing to help manage their health condition, we are ready to help you.

Mental Health Care

Your mental health is just as important as your physical health. We have mental health professionals on staff who are able to diagnose, treat, and manage a broad range of mental health conditions, including anxiety, depression, PTSD, and more.

Respite Care

Caring for an elderly, disabled, or sick family member is a great responsibility; however, it can be a rewarding, yet exhausting experience at the same time. It is okay to want and need to take a break. When you find yourself wanting to take a vacation from your caregiving duties, or if you have other responsibilities to handle, our caregivers can step in and provide care for your loved one in your place. Through our respite care services, you can rest assured that your loved one will be in good hands as you take a much-needed break.

Personal Care

When day-to-day personal tasks become too challenging, our thoroughly screened and extensively trained caregivers are here to help. Our personal caregivers respect your privacy and independence, and offer compassionate assistance where and when needed. Our caregivers offer compassionate assistance with activities of daily living (bathing, grooming, dressing, and toileting), meal preparation, medication reminders, companionship, light housekeeping, and more.

Companion Care

Are you unable to go out and socialize with your family and friends due to advanced age, disability, or illness? Are you feeling alone and isolated at home? If you are looking for some companionship, we are here for you. Through our companion care services, we offer you with meaningful companionship and conversation, assistance with daily exercise, fun recreational activities, assistance with correspondence, personal care, and more in the comforts of your own home!

Alzheimer's Care

Through our Alzheimer's care services, we make sure that those with Alzheimer's disease are able to remain in the familiarity and comfort of their own home. Our caregivers can also relieve the burdens faced by family caregivers who may be feeling overwhelmed by the responsibilities that come with Alzheimer's care.

Private Duty Nursing

Need skilled nursing services but don't want to move into a nursing home or some other care facility? Don't worry! We offer private duty nursing services, providing you with all of the skilled nursing care you need right in the comfort of your own home. Whether you need case management, medication administration assistance, assistance with PEG feeding tube, pre- and post-op care, wound care, or some other skilled nursing care service, we are here to help.

We also offer skilled nurse visits on a monthly basis.

Light Housekeeping

A clean, organized home environment is conducive to one's overall physical and mental health. Our caregivers can handle all of your housekeeping needs, from laundry and ironing, meal planning and preparation, bedroom cleaning, kitchen cleaning, garbage disposal, and more. Our caregivers can ensure that your home is clean, organized, and safe for you and everyone living in it.

Specialized Services (Massage and Manicures/Pedicures)

Upon request, we are happy to offer specialized services for our clients. Our specialized services include Massage Therapy, Manicures/Pedicures, as well as other beauty and wellness services. It is our goal to help you feel good and look good – no matter what you are going through.
Quality Home Health Care
We aim to assist you in all areas of home health care by collaborating with you, your family, and your physician/healthcare team. We will listen closely to your needs and preferences, enabling us to prepare a personalized package of home health care services specifically tailored for you.
Talk to an Expert
Quality home health care service is just a call away! Call us at 757-484-4005 and let us provide all of the care and support you need at home.
Not sure if our care services are right for you or your loved one? Set an Appointment today for a discussion.